IPA Best of the Best Firms 2017 ranks four Alliott Group CPA member firms
Publication of the INSIDE Public Accounting's Best of the Best Firms 2017 benchmarking report shows that Alliott Group's U.S. membership includes some of the highest performing firms in the U.S. accounting sector.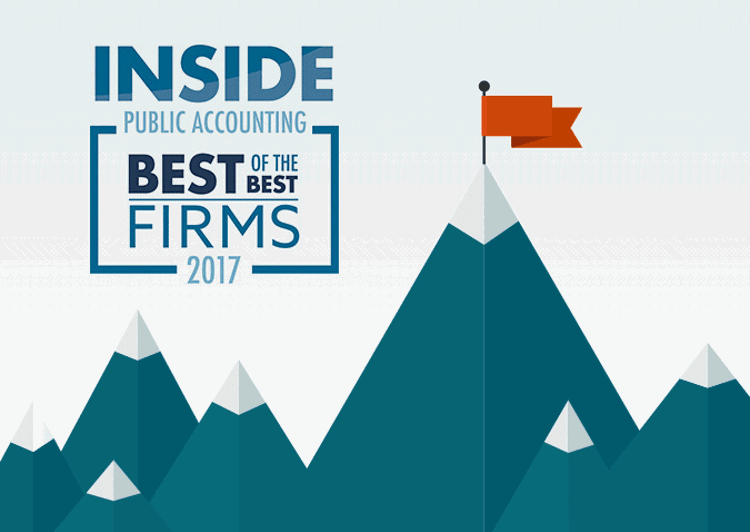 This year's IPA Best of the Best benchmarking report ranks the highest performers in the accounting profession using a proprietary formula of over 70 metrics. From the 2017 Annual Survey and Analysis of Firms in which 587 U.S. and Canadian firms participated, with firms ranging in size from 27 to 2,615 employees, only 50 firms are highlighted in the report as being "Best of the Best" firms.
Among these illustrious firms which INSIDE Public Accounting describes as "firms that are at the top of their game", are the following three Alliott Group member firms:
These firms have excelled by producing "superior financial results while planning for long-term sustainable growth." Each firm is ranked on not only superior financial performance, but also on training, staffing, governance, organizational structure, decision making and strategic focus.
IPA Best of the Best Under $5 Million
The report also lists the 10 IPA Best of the Best Under $5 Million firms, a list which includes Weber Shapiro & Company (Woodcliff Lake, NJ).
Despite their smaller staff, Weber Shapiro & Company is highlighted as having performance statistics that are indicative of firms much larger than theirs, and that are associated more commonly with the sophisticated systems, structures and policies found typically at larger firms.
We congratulate all of our U.S. member firms on their achievements. 
Find out more about membership
International association membership will enable your firm to learn from the common characteristics and best practices of high performing firms, in a non-competitive environment. If your accounting firm is growing but needs the additional resources an international association will provide to reach your next level, please contact James Hickey to discuss the benefits of membership.