Record alliance growth in first half of 2019, further expansion to be announced soon
Following significant growth in the first half of 2019, with 10 firms joining in the last six months, Alliott Group's Executive Office is implementing a strategy to achieve further growth in the second half of the year and into 2020. 
2019 has been a year of record growth for the alliance. A new Executive Office team led by Giles Brake, COO, is taking significant steps towards establishing itself as the 'go to business network' for independent accounting, audit, law, tax and other strategically relevant service providers that have a passion for exchanging ideas, best practice and business referrals as part of their strategy to attract a higher level of client and the brightest talent in their local markets. 
2019 has seen firms join (or sign our agreement to join later in the year) in countries including Belgium, Germany, Hungary, India, Israel, Italy, Kenya, Morocco, Russia, Tunisia and the United States. The group has made significant progress in entering new countries and further expansion to several additional new jurisdictions is expected to be announced in the coming weeks.
Entering its 40th year in business, representation in 100 countries to maximize growth opportunities for clients and member firms, remains one of the alliance's ultimate goals.    
COO Giles Brake comments:
"At the heart of our value proposition for mid-size firms are four key competitive advantages: Reach, resources, relationships and referrals. Collaboration and strong partnerships are the keys to future success and meeting the ever more complex needs of clients. Mid-size firms do not have the scale or resources to go it alone. With our support and infrastructure, they will be able to win the battle for the clients and the talent they need to be more competitive."
A further strategic goal is for Alliott Group to become a truly multidisciplinary business services alliance, with Brake adding: "While we have accountants, auditors, tax advisers and lawyers in our worldwide alliance, clients need and expect easier access to an ever broader range of advisory services. To move towards this strategic goal, we have reached agreement with a leading international network of independent executive search firms in 44 jurisdictions. We are very excited about this development which differentiates Alliott Group in the market. More details will be available in the coming weeks." 
A restructured Executive Office team
The Executive Office team in the UK has been reorganized and supplemented in 2019, with the changes generating the desired results. Brake adds: "Damien McMenamin joined as Head of Global Business Development in May to drive forward membership development- this side of the business is flourishing, with Sophia-Rook Blackstone playing a really key role as Membership Development Executive. Jenny Ringrose is performing to her usual high standards in managing our events programme and running our member services programme, and Caitlin Ross is achieving great things in marketing communications, helping to sharpen our image and improve communications to members (including via the engAGe intranet) and to clients. Each member of the team is giving 100% to taking Alliott Group to the next level."
Looking forward
Membership expansion is not the only development that members can look forward to in the second half of 2019. New services in training and development are in the pipeline, new events are scheduled including EMEA Staff Training in Malta (3-4 October), meetings on the East and West Coast of the US and the Worldwide Conference takes place in Madrid (23-26 October) where the alliance will celebrate its 40th anniversary.  
Despite the challenges facing every professional firm and international alliance, Alliott Group and its members have every reason to be excited and optimistic about the future. 
You may also be interested to read...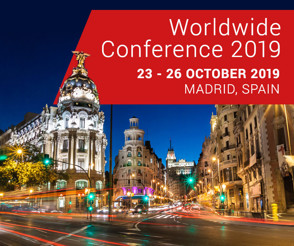 Registration now open for Alliott Group's biggest event of 2019