Alliott Group members collaborate to co-sponsor key global mobility industry event in London
A 27-person global team of tax advisers, immigration experts and lawyers from 18 member firms in 12 countries join forces to co-sponsor the annual FEM EMEA Summit in London.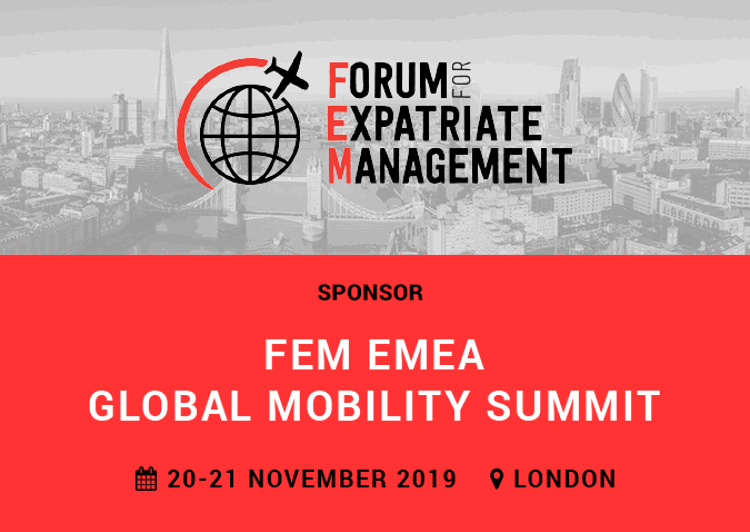 From 20-21 November 2019, a 27-person global team of tax advisers, immigration experts and lawyers from 18 member firms in 12 countries join forces once again under the Alliott Group/Global Mobility banner to co-sponsor the annual Forum for Expatriate Management (FEM) EMEA Summit in London.
Taking place at the O2 Intercontinental in London, this two-day conference will bring together over 400 global mobility and HR professionals from some 100 international companies that have expatriate populations. Attendees will be drawn from across Europe and from a variety of industries including Retail, Energy, Shipping, Manufacturing, Logistics, IT, Management Consultancy, Auditing, Pharmaceuticals and more. Companies represented include IKEA, Booking.com, Nike, Heineken, Unilever and Samsung.
Luc Lamy, EMEA Chair of Alliott Group/Global Mobility, comments: "The FEM Global Mobility Conference forms an integral part of Alliott Group/Global Mobility's 'go-to-market' strategy which is aimed at developing the visibility of the specialist local expertise available to clients in most of the world's commercial centres. Alliott Group's team of collaborative, trusted advisers are active across 65 countries in the fields of policies, procedures, immigration, tax and social security. We are positioned perfectly to make that vital difference to the success of our clients' assignments."
Alliott Group's investment and involvement in this event extends to an exhibition stand and a 30-minute keynote presentation which will be delivered by four of the alliance's global mobility specialists: Kathleen Gaber (Masuda Funai, USA); Graeme Kirk (Ellisons, UK); Luc Lamy (Tax Consult, Belgium); and David Gibbs (Alliotts, UK). Their session will shine a light on some of the lesser-known aspects of international assignments that our experts see overlooked time and time again, including marijuana, death in service, visa issues and family rights.
Alliott Group COO, Giles Brake, adds: "Our presence at this event demonstrates Alliott Group member firms' collaborative approach to engaging with clients in this niche. Member professionals from the EMEA, Americas and APAC regions are working together through Alliott Group to position themselves as the default outsourcing option for locally-based international companies that need strategic support in managing the risks inherent in moving teams of people in and out of different jurisdictions."
The representative member firms in London forming the international team include: SobelCo, Masuda Funai and Farkouh Furman & Faccio (all USA), Guggenheim & Associés (Switzerland), Ellisons Solicitors, Alliotts and Sherrards Solicitors (all UK), Asontas (Austria), Borrie Expatriate Services (Netherlands), BĒS ASSOCIATI, Studio Internazionale and B4LEX (all Italy), audalis (Germany), Tax Consult (Belgium), Dixcart Management Malta (Malta), Dixcart Trust Corporation (Guernsey), Fehér Legal & Tax (Hungary), and ABV Advogados (Portugal).