Saudi Arabian accounting firm joins worldwide alliance to extend reach to international markets
AWAJI Certified Public Accountant has affiliated with leading international alliance ('association') of accounting and law firms Alliott Group and is now the alliance's representative accounting firm member in Saudi Arabia. Membership of Alliott Group is part of the firm's strategy to improve services to clients and continue recent strong growth, while retaining the firm's independence and identity.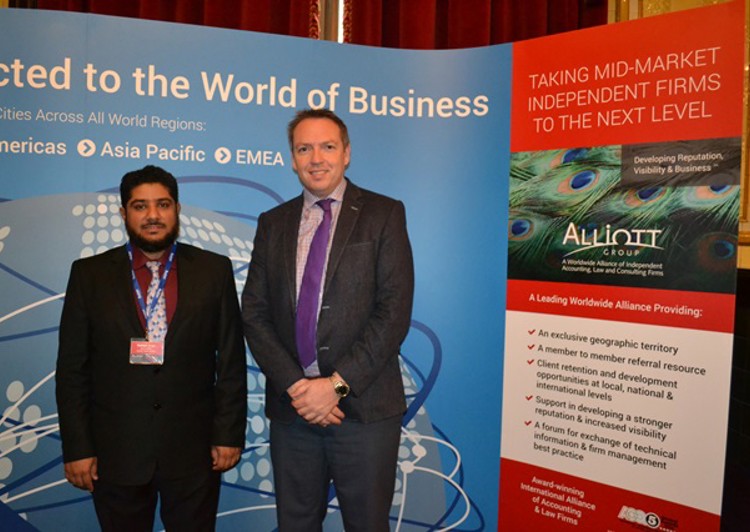 A real coup for the group
"The appointment of AWAJI Certified Public Accountant is a real coup for the group – their entrepreneurial approach fits well with the culture of the group and follows on from the appointment of Johar Audit in Kuwait last year. This latest development provides valuable momentum as we target further growth of the alliance's coverage in the Middle East region in the next 12 months."
James Hickey, CEO Alliott Group
Based in Riyadh in the Kingdom of Saudi Arabia, and a member of the Saudi Organization of Certified Accountants (SOCPA) and the Arab Association of Certified Accountants, AWAJI Certified Public Accountant is an independent, middle market accounting firm with ambitions to develop the firm's reputation and visibility in Saudi Arabia, the wider Middle East region and internationally.
Since its inception in 2013, the 42-staff firm has doubled its revenues every year, focusing on servicing clients in the core areas of audit and assurance, tax and Zakat and financial advisory services, but with an increasing diversification towards value added services including valuations, liquidations and training services.
The firm's client base includes large concentrations of clients in the construction, financial services, entertainment, food and drink and automotive sectors.
Rashed Awaji, the firm's founder and Managing Partner, comments: "We sought out an international alliance as part of our strategy to position the firm in our national market as one that has the connections and resources to service inbound and outbound investors. The international profile provided by Alliott Group distinguishes our firm among our local competitors and will support our future growth. We look forward to developing strong connections with alliance colleagues and to helping to extend the alliance's coverage in our region."
About AWAJI Certified Public Accountant
Awaji Certified Public Accountants is an independent firm of certified public accountants and financial consultants established in the Kingdom of Saudi Arabia. We pride ourselves on being able to offer fresh perspectives and practical advice to clients, delivering ideas and solutions in the most efficient, effective and timely manner. Our expertise encompasses audit and assurance, Zakat and tax, consulting, and financial advisory.