Together Towards Tomorrow: 2019 North America regional meeting begins in Orlando, FL
54 accountants, lawyers, tax specialists, clients, industry sponsors and speakers meet together in Orlando for the Alliott Group 2019 North America Leadership Conference.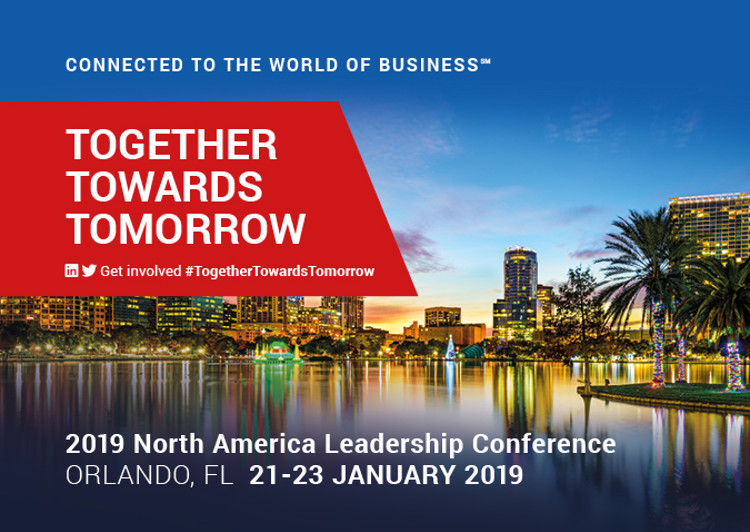 Taking place 21-23 January at the Grand Lakes hotel complex in Orlando, Florida, Alliott Group's 2019 North America Leadership Conference will provide a welcome dose of winter sunshine alongside a carefully curated three-day programme of thought-provoking, engaging sessions tailored specifically to engage leaders at all levels of the firm - Partners, Managing/Executive Partners and 'future leaders' alike – to work together towards a better tomorrow.
We are delighted that 54 accountants, lawyers, tax specialists, clients, industry sponsors and speakers are set to attend.
The standards are raised at each alliance event, with each unique meeting opportunity providing valuable networking with fellow members and insight into developments across our 154-member-strong alliance. The North America Leadership Conference is no exception with dedicated networking sessions, peer-led roundtable discussion, a scavenger hunt and dinners woven into the programme.
The programme itself was designed by the Executive Office in conjunction with the North America Advisory Committee, with highlights including:
Sean Snaith on the impact of the Trump administration on US and global economies.
Chief Empathy Officer and TEDx speaker Karen Millsap on the importance of exercising empathy in business to foster an engaged, loyal and more productive workforce.
CNN-featured Technology Futurist, TEDx Speaker, author and filmmaker Ian Khan on Blockchain, AI and cryptocurrencies
Business advisor and two-time Disney Lifetime Achievement Award recipient, Jeff Noel on growing business through world-class customer service.
A client-led panel discussion exploring exactly what clients want from their professional advisors and the challenges their businesses face in 2019.
Jules Carman from Preferred Partner Sage on how firms can future-proof themselves against the advent of new disruptive technologies and changes to the accounting profession.
Marketing guru Ross Fisherman on how to identify gaps in the market to ensure business development success.
Breakout sessions will see member firms' leaders of tomorrow participate in a special workshop run by Ross Fishman, while recruitment specialist Doug Seville will talk to partners and managing/executive partners about how to implement a firm-wide approach to sourcing talent.