What does India's 2017 Union Budget mean for foreign investors?
India's 2017 Budget has much to offer foreign investors: tax holidays, lower tax rates and an easier compliance regime. Pankaj Dave, Senior partner at Indian accounting firm B.M. Chatrath & Co, explains more
A Positive Statement on India's Future
"This was a positive Budget for foreign investors: eradication of bureaucracy, the opening up of strategic sectors and improved corporate tax rates for startups." Pankaj Dave, Senior Partner, B.M. Chatrath & Co, India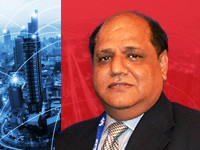 India's Union Budget 2017 (the "Budget") was presented on 1st February by the country's Finance Minister. What we saw was a balanced approach with a focus towards strengthening the country's core. A smaller number of promises and some very strong amendments were proposed. The global economy is ablaze recently courtesy of President's Trump's policy making in the U.S., Brexit in the UK and India's own controversial tax treaties with Singapore and Mauritius. In view of this, what does India's Union Budget 2017 have in store for foreign investors? Pankaj Dave, a partner at B.M. Chatrath and a member of our International Tax Services Group explains. 
1. Abolition of the Foreign Investment Promotion Board (FIPB)
This perhaps is one of the most important updates to come out of the Budget. In India, Foreign Direct Investment (FDI) is allowed through two routes:
The automatic route
The prior approval route.
The FIPB was initially constituted under the Prime Minister's Office (PMO) in the wake of the economic liberalization drive of the early 1990s. One of the major roles of the FIPB was to oversee FDI through the prior approval route. A major source of business establishment in India – Limited Liability Partnerships (LLPs) - can be formed by a foreign national only through this prior approval route.
In the last year (2016), almost 90% of India's sectors had been brought under the automatic route. The FIPB has already implemented e-filing and the online processing of FDI applications. Hence, this move does seem practical.
Download Budget analysis
To summarize, the abolition of the FIPB can mean the following for foreign nationals:
The formation of LLPs will be much easier. Foreign nationals looking for easy, small scale businesses may now be able to take advantage of this option. However, further clarity on this will only be forthcoming once the fine print is available following the phasing out of the FIPB mechanism
Further flexibility of FDI norms is on cards
Tedious approval processes and ancillary bureaucracy will be eradicated
India's strategic sectors are being opened up.
2. Fiscal deficit of 3.2% of GDP
This was indeed an expected move. Particularly because it goes hand in hand with the fall in revenue deficit. In the current era of economic volatility, this seems to be a prudent move. This, coupled with the huge focus on infrastructural and rural spending, has received positive nods from market leaders.
3. Reduction in corporate tax rates
This is another move which will benefit all startups. In the early years, a startup does not earn. Yet it has to pay the same rates of tax as the blue chips. There has been legitimate demand from the startup ecosystem to lower corporate tax rates. Acknowledging this, the India's Government has reduced tax rates to 25% (from 30%) for startups and SMEs whose turnover is not more than 50 crores (i.e. Rupees 500 million). This is a move towards ensuring India is more in step with international best practices.
4. Reform of State specific laws
In India, state specific laws constitute a very integral part of the compliance bucket. Unfortunately, most of these laws are "grandfathered" (i.e. there are exceptions that allow those companies already in the market to continue even though new laws would prohibit them from doing so) and their compliance is too manually driven. However, in the last few years, owing to the Modi Government's huge digital push, a large chunk of this compliance can now be carried out online. Continuing in this vein, the Finance Minister has announced that major state laws such as the Shops & Establishment Licensing and Provident Fund & ESI rules, will be amended.
5. Tax holidays
The Finance Minister has also announced that entities incorporated post 31st March 2016 and approved by Startup India can avail a three-year tax holiday in the first seven years of the business instead of only the first five years which had previously been provided to them.
6. The global trading scenario
We live in times where the policies in one country can create a domino effect in other countries. We can now hardly rely solely on our own country's policies for growth and development.
What has made India a stronghold in recent years is its conservative economy with the added cherry on top of liberalization.
U.S. investors may not focus on India due to Trump's anti "job creation outside the U.S. policy". However, UK and European investors are likely to turn their focus towards India, especially post Brexit. Singapore and Mauritius are two other major contributors to India's FDI reserves. The taxation treaty with these two countries has recently been modified, giving rise to some confusion over capital gains tax. It is yet to be seen how this will affect business and when clarification will be provided.
7. Upcoming Goods & Service Tax (GST) regime
The introduction of GST has been a talking point for quite some time now. In the Budget, the Ministry of Finance stated that the Government is very close to implementation of the GST module as a whole. The migration process from existing VAT laws started some time ago. Team members at both the Central and State levels of the Central Board of Excise and Customs have been working together to put the finishing touches to the Model GST Law and its associated rules. It will not be long now until GST is fully implemented.
In summary
India's conservative budget has a lot to offer to foreign investors in terms of tax holidays, lower tax rates and an easier compliance regime.
For more information on tax or doing business in India
Please contact Pankaj Dave at Indian accounting firm B.M. Chatrath & Co. Alternatively, download a full analysis of the Indian Budget below.
Download Budget analysis