The Trump Administration embarks on visa reforms
In this article, Kathie Gaber, Partner & Chair of the Business Immigration Practice Group at Masuda Funai (Chicago, IL), touches on the more significant changes which may affect foreign nationals who are intending to be transferred to the U.S. by their employer abroad or foreign investors who are intending to invest in the U.S.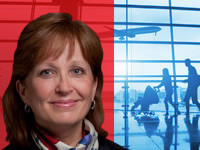 "This is the tip of the iceberg and we anticipate that in the coming months, there will be many more specific rules and regulations restricting the travel or employment of foreign nationals in the U.S."
Kathleen Gaber, Partner, Masuda Funai
Buy and hire American
On April 18, 2017, President Trump signed the Buy American and Hire American EO with the intention of creating higher wages and employment rates for U.S. workers in addition to protecting their economic interests.
This EO mandates that all agencies administering the immigration laws of the U.S. propose new regulations, rules and guidance, as soon as is immediately practical, to protect U.S. workers. As of the date of this article, the Foreign Affairs Manual, which is used as guidance by Foreign Affairs Officers in issuing visas at U.S. embassies and consulates abroad, has been updated to specifically acknowledge that the spirit of the EO will be considered in adjudications of the most commonly issued employment based visas.
This is the tip of the iceberg and we anticipate that in the coming months, there will be many more specific rules and regulations restricting the travel or employment of foreign nationals in the U.S. However, from a practical perspective, we are already encountering numerous issues as indicated below:
Heightened focus on wages: In the context of the H-1B specialty occupation classification, positions which are designated as entry-level, thereby justifying the lowest of four assignable wage levels by the Federal Labor Department, must now justify that the duties are in fact of a basic nature. The implication is that this classification should only be awarded to the most skilled or highest paid roles. In the context of the L-1 intracompany transferee classification, if the salary (excluding benefits and allowances) for the U.S. assignment does not amount to at least the minimum wage in the state where the beneficiary will be assigned, this can lead to a denial. 
Employment of U.S. workers: In the context of E-1/E-2 Treaty Traders/Investors, consular officers are showing reticence in approving and extending visas for one and two person offices which do not employ U.S. citizens.
Audits: There has been a resurgence in the use of audits by immigration and customs enforcement to ensure that a company's workforce is legal and in compliance with the Employment Eligibility Verification Form I-9 requirements of the Immigration and Nationality Act. In addition, fines increased in 2016 and violations can result in penalties of up to $1,850 per employee.

On-site visits: National fraud and detection officers have extended on-site visits from the H-1B classification to the L-1 classification. Employees who are not employed at the address indicated on the petition, or who are in positions which substantially deviate from what was stated in the application, can have their petitions revoked.

Temporary Business Visitors: Foreign nationals who travel frequently to the U.S. either pursuant to the visa waver program or to a correctly issued B-1 visa, are seeing heightened vetting and additional screening at secondary inspection areas. Areas of concern are: 
1) overseas employees who have global responsibilities requiring them to manage a team or function in the U.S.;
2) traveling to the U.S. on a regular basis and staying for extended periods of time (Note: travel histories are now electronically accessible to inspecting officers during the admission process); and 3) entering the U.S. for activities which may be viewed as productive employment, such as project management roles and servicing machinery. Officers can introduce expedited removal proceedings at the port, which bars entry for five years.
Takeaways
1. When establishing new companies in the U.S., the transfer of personnel should be a primary focus and not an afterthought
2. No one can guarantee visa issuance. For this reason, be sure that employees do not buy plane tickets, give up their leases or quit jobs with other employers until the visa is actually issued
3. Have a back-up plan
4. Consult with an attorney before an application is lodged or a denial is received so that the case can be as solid
as possible.
For more information
Please contact Kathie Gaber at Masuda Funai in Chicago.