SST Attorneys (Pretoria office)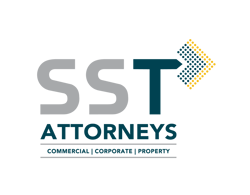 Law
Location
Pretoria, South Africa
SST Attorneys (Pretoria office)
Block A, 34 Bouvardia Avenue, Lynnwood Ridge
South Africa
Website: https://sstlaw.co.za/
Tel: +27 012 361 9823

Local time: UTC+2
Stroebel Singh Theunissen Incorporated (better known as SST Attorneys) is a South African law firm serving a wide geographic area from its established practices in Pretoria and Sasolburg. Although primarily serving the South African market, the firm frequently advises its clients on cross-border commercial transactions and is establishing an increasing international footprint.
We have been offering a comprehensive and diverse range of legal services since 1959 (previously under the name Molenaar and Griffiths Incorporated) and are tireless in our efforts to continue developing and offering expertise to new and existing clients.
Our key objective is to practice our profession with excellence by being current, innovative, informed and remain in touch with the needs of the clients we serve.
More
Less
Practice areas
Commercial litigation
Corporate governance
Estate planning, trusts & wealth management